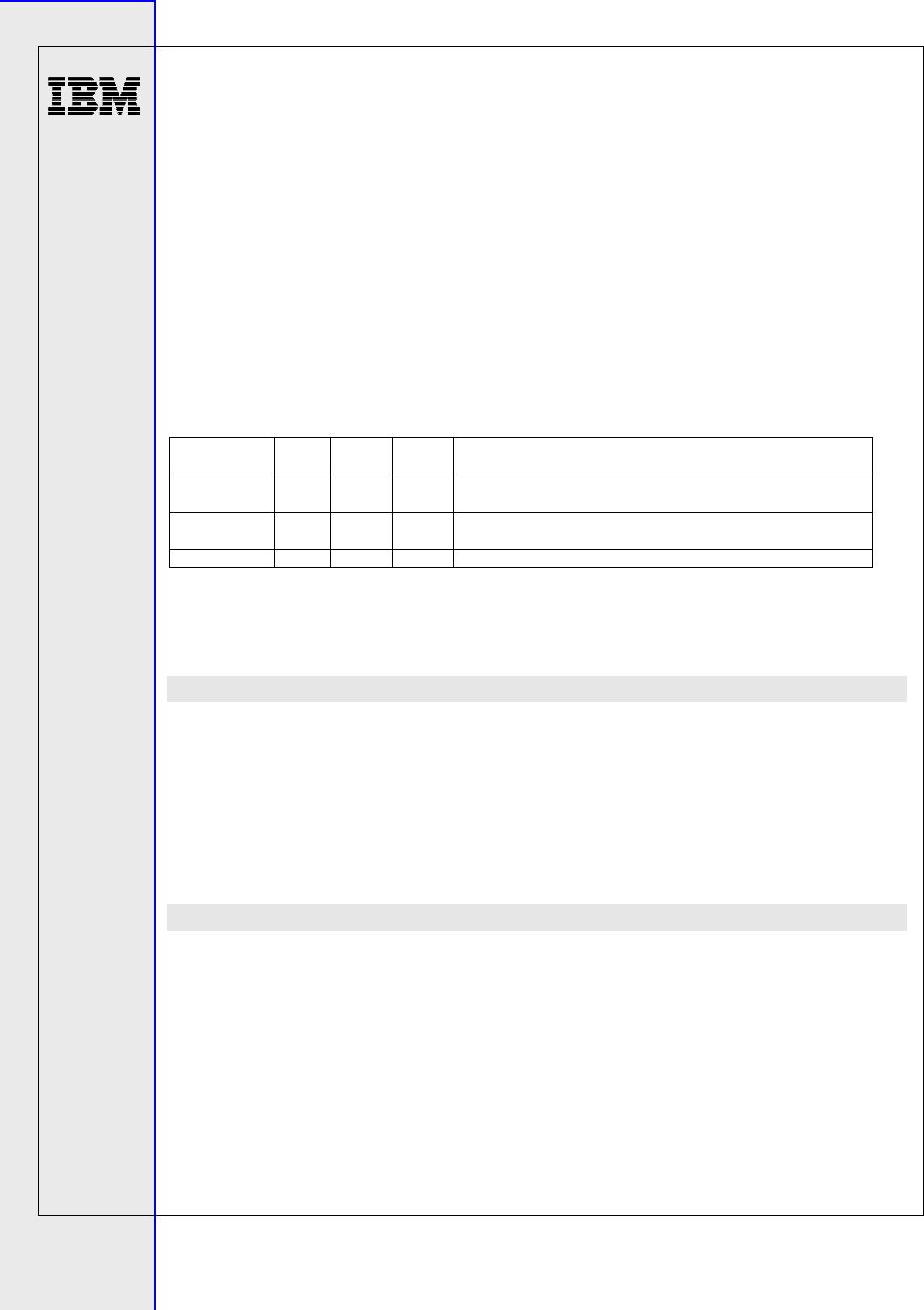 IBM Oracle ICC Technical Notes
ibmoracle@us.ibm.com
© Copyright 2012, IBM Corporation
Note in Table 1 that the chdev command with attribute pv=yes or pv=clear which will write to the VGDA
information block on the disk, does not have the checking for the Oracle disk signature. It is therefore
extremely important that this command is not used on a disk, which is already being used by Oracle, as it
could lead to corruption of the Oracle data. To help prevent this, additional functionality was added to
AIX.
AIX 6.1 and AIX 7.1 LVM commands contain new functionality that can be used to better manage AIX
devices used by Oracle. This new functionality includes commands to better identify shared disks across
multiple nodes, the ability to assign a meaningful name to a device, and a locking mechanism that the
system administrator can use when the disk is assigned to Oracle to help prevent the accidental reuse of a
disk at a later time. This new functionality is listed in Table 2, along with the minimum AIX level
providing that functionality.
The use of each of the commands in Table 2 is described in the sections below.
AIX lkdev Command:
The AIX lkdev command should be used by the system administrator when a disk is assigned to Oracle to
lock the disk device to prevent the device from inadvertently being altered by a system administrator at a
later time. The lkdev command locks the specified device so that any attempt to modify the device
attributes (chdev, chpath) or remove the device or one of its paths (rmdev, rmpath) will be denied. This is
intended to get the attention of the administrator and warn that the device is already being used. The "-d"
option of the lkdev command can be used to remove the lock if the disk is no long being used by Oracle.
The lspv command with the "-u" option indicates if the disk device is locked. The example section of this
paper shows how to use lkdev and the related lspv output.
AIX rendev Command:
The AIX rendev command can be used to assign meaningful names to disks used by the Oracle Database,
Cluster Ready Services (CRS) and ASM. This is useful in identifying disk usage because there is no
indication in output from AIX disk commands indicating that a disk is being used by Oracle. For
example, the lsps command does not indicate the disk is used by Oracle. The command can be used to
assign a meaningful name to the Oracle CRS OCR and VOTING disks, whether they are accessed as raw
devices (prior to 11gR2) or through the ASM (11gR2 and later).
AIX
Command
AIX
5.3
AIX
6.1
AIX
7.1
Description
lspv NA TL07 TL01 New AIX lspv command option "-u" provides additional
identification and state information
lkdev NA TL07 TL01 New command can lock a device so that any attempt to
modify the device characteristics will fail.
rendev NA TL06 TL00 New command to rename device.
Table 2 – New AIX Commands Useful for Managing AIX Devices Used by Oracle ASM